GUEST POST: Brad Shorr, Director of Content Strategy at Straight North
The lead generation component of your Internet marketing efforts is the engine that drives that campaign to greater success. What's more, like any other kind of engine, that lead generation component is built from many moving parts that all need to be working together to deliver the best results. However, too many Internet marketers today go out into the marketplace with lead generation campaigns that are missing crucial elements. This causes them to miss essential opportunities because their lead generation campaigns aren't operating at their highest efficiency. Many times, the reason these campaigns don't function the way they should is simple — they were constructed without knowing how all of their pieces should fit together.
Here at professional SEO agency Straight North, our team members have spent a lot of time examining successful lead generation campaigns to understand what makes them work. After putting so many of these campaigns under the microscope, we've identified all the elements that these campaigns need to have in order to appeal to each of the unique types of visitors websites attract. For example, including case studies is an effective way to connect with website visitors who are serious about buying and conducting research; while highly sharable social media posts help attract people who may not even be thinking about a product or service until a friend shares the content.
These and many other components are essential for a lead generation campaign. Yet because there are so many of them, it can be difficult for Internet marketers to build their lead generation campaigns without forgetting anything. Just like building any other kind of engine, having a blueprint or schematic can be very important. That's why we at Straight North have created the infographic you see below. Using it as a type of blueprint for your lead generation campaign can help ensure that you don't leave anything out when building or revamping your campaign.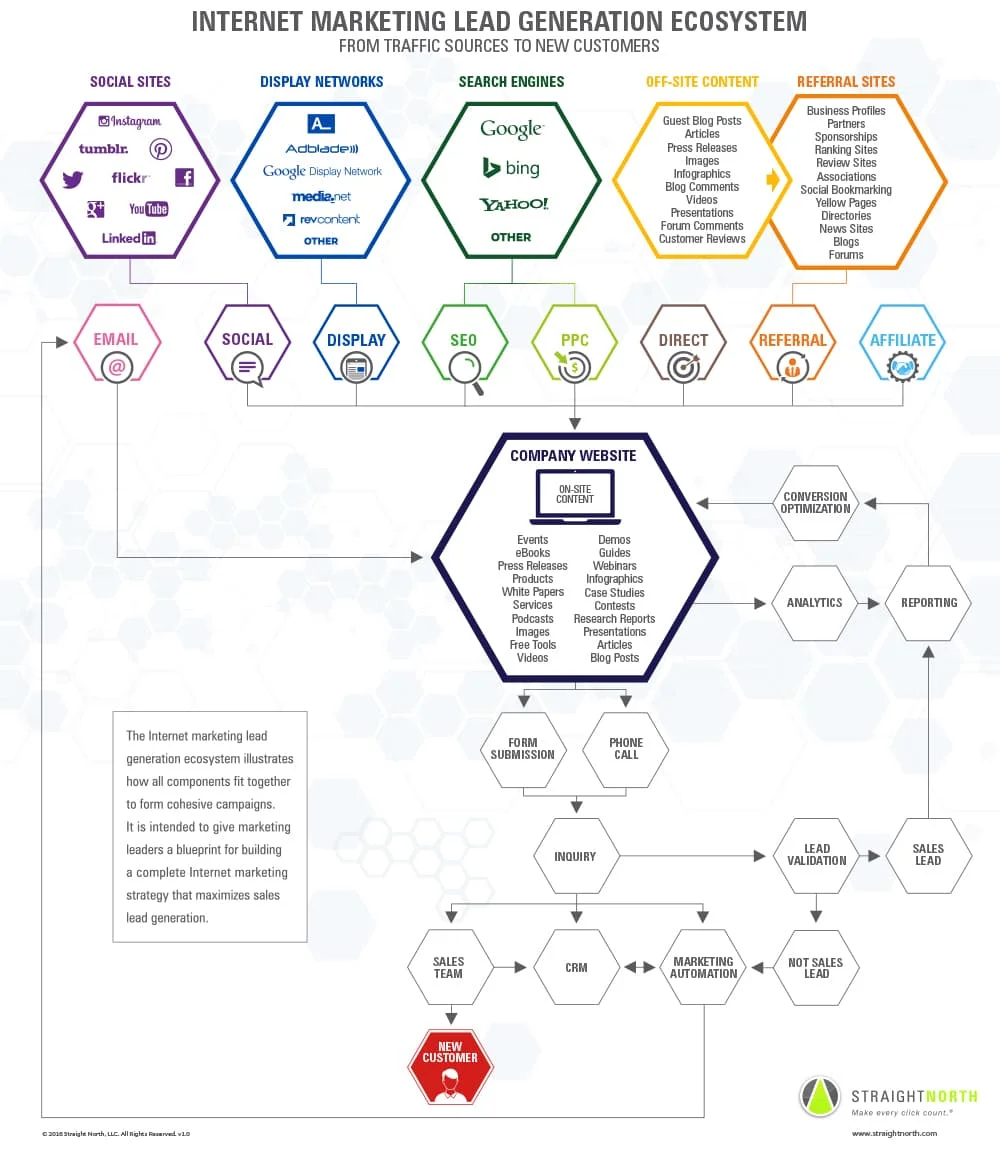 created by Straight North a professional SEO agency
Brad Shorr is Director of Content Strategy at Straight North, an Internet marketing company in Chicago that provides SEO, PPC and web design services. With more than 25 years of sales and marketing experience, Brad has been featured in leading online publications including Forbes, Moz and American Marketing Association